2023 September The PM Training Trifecta Edu Workshop - 3 PDUs - Virtual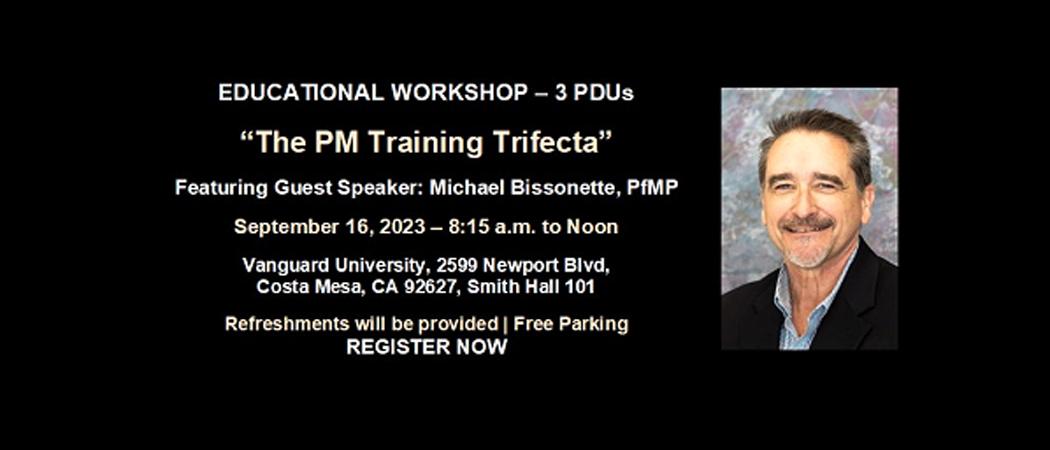 The PM Training Trifecta
Speaker: Michael M. Bissonette, MS, MBA, PfMP
Title: Founder
Company: RTConfidence, Inc.
September 16, 2023 
Presentation Description

Description of General Topic:

This set of courses examine (via case study examples) how portfolio management aligns organizational strategic goals and objectives, along with project planning, and monitoring & controlling projects through to project completion.  Ways to proactively manage project and program stakeholder expectations are explained, as well as how projects are effectively controlled.   Learn some key tools and techniques that facilitate the monitoring & controlling process to continuously "re-balance" project plans using valid KPIs (Key Performance Indicators) to track and govern project team performance.

Part 1: Creating and Using a Valid & Effective Project IMS (Integrated Master Schedule)

Successful Project Execution Enabled via a Valid & Dynamic IMS

Easily Creating, Validating, Baselining and Updating an IMS Using Chrono™

Create, Update and Baseline an IMS Yourself – Doing it can Break Down Unwarranted Barriers

Part 2: Applying and Benefitting from an Effective Project SRA (Schedule Risk Analysis)

The Rationale and Practical Benefits behind Overall Project Risk Analysis

Perform an Overall Project Risk Assessment Using the Chrono™ SRA Tool

Set the Stage for the Ultimate PM Trifecta: IMS, SRA and EVM (Earned Value Management) Made Easy

Part 3: Applying EVM (Earned Value Management) Effectively and Successfully

Risk-Adjusted EVM Made Simple for Successfully Monitoring & Controlling Projects

Proactive Project Risk Management Enables Success by Controlling/Containing the "Cost of Change"

Project Success is Bolstered when Employing Good/Useful/Affordable Tools & Techniques

Description of Topic/Presentation Part 1 (Creating and Using a Valid & Effective Project IMS):

The Key Concepts Behind Project Scheduling
Practical Application of Creating an IMS through Actual Hands-on Experience
Creating a Valid IMS Using Chrono™, that:

Eases the Development, Baselining, and Updating of Plans and IMS's
Sets the IMS Up to Readily Integrate with Other Compatible Advance Tools & Techniques
Improves Team Performance and Enables Greater Project/Organizational SUCCESS

Overview of Other Chrono™ Features

The hands-on experience requires downloading Microsoft Project desktop version (bring your laptop) and also downloading the Chrono™ add-on. Those without Microsoft Project can team up with those that do have it, or download a FREE One-Month Desktop Trial Version of Microsoft Project®  and a FREE One-Month Version of Chrono™

Speaker Bio(s)

Michael M. Bissonette, PfMP

Michael M. Bissonette (MS, MBA, PfMP) is a highly successful engineer-turned-businessman and is considered both a thought-leader and subject matter expert in Portfolio, Program, and Project Management within several diverse industries (Aerospace and Defense, Consumer Electronics, Clean Tech, Industrial Equipment, and SaaS [Software as a Services]).

His work experience spans over 40 years of product development and organizational management, including executive positions in large Fortune 500 companies. He is the author of two books.  His first book, "Project Risk Management: A Practical Implementation Approach" was published by PMI in 2016.  His second book is on the subject of "Strategic Project Management" and was published in 2021.  He is an adjunct instructor at Clarkson University where he teaches "Strategic Project Management" in a MS in Engineering Management curriculum.

Mike is an entrepreneur (Founder of RTConfidence, Inc. – developer of Chrono™, the most advanced and affordable integrated IMS (Integrated Master Schedule)/SRA (Schedule Risk Analysis)/ESM (Earned Schedule Management) SaaS Tool on the market.  He is also a PMI chapter board member for the Orange County, CA chapter.  Mike has spoken at many events (domestic and international), is a volunteer in probation at juvenile detention facilities, is an avid sports enthusiast, and enjoys oil painting.

Instructor's Book: "Achieving Epic Business Results": Amazon.com: Achieving Epic Business Results with Strategic Project Management: 9781735399904: Bissonette, Michael, Cocotis, Thomas, Lowder, Ace: Books.

Location

This session will be delivered via online webinar. The link will be sent to all registered attendees on the Friday before the day of the workshop. 

Time

8:15 a.m. - Registration, Networking (in-person attendees), and light breakfast

8:35 a.m. - Intro (Zoom to open at 8:30 a.m. for online attendees)
8:45 a.m. - Presentation (3.0 PDUs, 3-hour session, 2 breaks)
11:30 a.m. - Wrap-up
12 noon - Adjourn


Refreshments: Morning (Bagels, Donuts, Coffee, Juice); Mid-morning break (drinks and light Snacks) 

Cost

$20.00

 

Registration Deadline: Must register before 8:30 AM the day of the event.

PDUs: 3.0 - Ways of Working (2.0); Business Acumen (0.5); Power Skills (0.5)

This is a hybrid event, and all in-person attendees will meet in Smith Hall, room 101. Parking is available in the Smith or Main parking lots. Please register early as space is limited.

** Enter through the Newport Blvd entrance for parking.  Campus-Map---Vanguard-Univ,-Smith-101-Bldg.png 

This program, while located at Vanguard University, is not affiliated, sponsored, or endorsed by Vanguard University.

 
For online registrations, we accept only credit cards (Visa, MasterCard, and American Express using PayPal) and payment must be paid in full at the time of registration. For walk-in registrations, we accept cash and checks only. If you register for an event online and receive an error message or are unsure if something is wrong, please send an email to support.request@pmi-oc.org as soon as possible
Cancellation Policy
Reservations must be canceled no later than 10 pm PST two days prior to the event in order to receive a refund. All cancellations (including duplicate registrations) are subject to a 10% Administrative Fee. To cancel, send an email to registration_cancel@pmi-oc.org and include your name and the event. Click here to view the PMI-OC Event Registration and Cancellation Policy in its entirety.
Photo Disclaimer
Upon participating in any PMI event, you are agreeing to allow PMI to use your likeness for use in its promotional material including their websites.  If you do not want your photo taken, please let the in-person photographer know when you arrive.
It is no longer possible to register for this event