2023 July Book Club Meeting - 1 PDU - VIRTUAL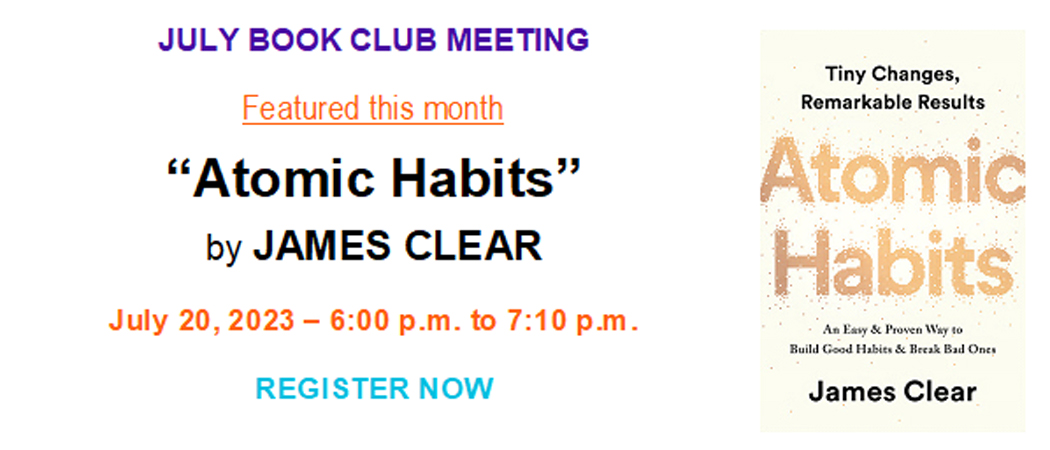 "Atomic Habits"
Author:  James Clear
July 20, 2023
Presentation Description

Description of Topic/Presentation:

Back when we were young, we read all sorts of books for leisure, such as "Lord of the Rings", "Harry Potter", "A Wrinkle in Time", etc. There was no requirement except that it was a good and entertaining read! However, things have changed now as adults – we also look for books that help us grow.  Especially, since we are also project managers (or aspiring project managers), we look for relevant books to help us become better project managers, better members of a team, and better leaders.  Let's make the learning easier and have the material stick by taking part in the PMI-OC Book Club!

At this meeting, we will discuss the current book, "Atomic Habits" by James Clear.  We will explore the content and its themes and discuss possible actionable takeaways. 

"No matter your goals, Atomic Habits offers a proven framework for improving--every day. James Clear, one of the world's leading experts on habit formation, reveals practical strategies that will teach you exactly how to form good habits, break bad ones, and master the tiny behaviors that lead to remarkable results."

Click here to learn more about the PMI-OC Book Club!

Learning Objectives from the Book:

Become aware of how habits affect and form the backbone of our project lives.

Learn a framework to understand the nature of all habits and the impact on our projects.

Learn how to apply the framework to our personal and professional lives to promote good project habits and break bad project habits.

Learning Objectives from the Meeting:

Gain a new perspective from reading the book.

Discuss the book with others.

Gain more perspective through integrating the perspectives of others.

A link for additional information on this topic:  https://www.amazon.com/dp/B07RFSSYBH

Location

This session will be delivered via online webinar. The link will be sent to all registered attendees before the book club meeting begins.  

Time

5:50 p.m. - Early Login/Networking
6:00 p.m. - Event Start
6:00 p.m. to 6:05 p.m. - Book Club Introduction
6:05 p.m. to 6:10 p.m. - Initial Book Rating
6:10 p.m. to 6:55 p.m. - Book Discussion
6:55 p.m. to 7:00 p.m. - Post-discussion Book Rating
7:00 p.m. to 7:05 p.m. - Book Takeaways Request & Next Book Selection
7:05 p.m. to 7:10 p.m. - Announcements & Upcoming Events
7:10 p.m. - Event Concluded and Adjourned

Cost

 

In Advance Now Until Registration Cutoff
(6/1/2023 – 7/18/2023)

Member Pricing

FREE

Non Member Pricing

$10.00

 

Registration Deadline : Must register by July 18, 2023 @ 11:55 p.m.

PDUs: 1.0 - Ways of Working (formerly Technical)
For online registrations, we accept only credit cards (Visa, MasterCard, and American Express using PayPal) and payment must be paid in full at the time of registration. For walk-in registrations, we accept cash and checks only. If you register for an event online and receive an error message or are unsure if something is wrong, please send an email to support.request@pmi-oc.org as soon as possible
Cancellation Policy
Reservations must be canceled no later than 10 pm PST two days prior to the event in order to receive a refund. All cancellations (including duplicate registrations) are subject to a 10% Administrative Fee. To cancel, send an email to registration_cancel@pmi-oc.org and include your name and the event. Click here to view the PMI-OC Event Registration and Cancellation Policy in its entirety.
Photo Disclaimer
Upon participating in any PMI event, you are agreeing to allow PMI to use your likeness for use in its promotional material including their websites.  If you do not want your photo taken, please let the in-person photographer know when you arrive. 
It is no longer possible to register for this event